Marty Long, the co-owner of Cartridge World in Cherry Hill, is the World's Worst Printer Salesman.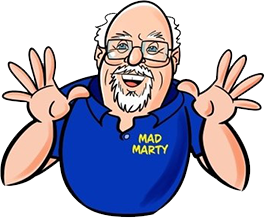 Marty went to Staples one day in 2005 and was quite irritated when he saw the price he paid for a simple toner cartridge. After that experience, he began a search to find a better offering for the public. His research led him the Cartridge World franchise, where he bought in.
What makes Marty the "worst printer salesman in the world"? He realized that no one actually makes money selling the hardware (printers). It is a race to see who can be the cheapest. The printer, he has learned, is simply the beginning of your cost of ownership as the business owner now has to purchase the consumables (toner cartridges, imaging drums, etc.). THAT is where the money is made with printer and ink sales. It's the old "razor and blade" theory…give away the razor and make money on the blades.
So, Marty figured out a way to literally give away free printers to businesses. As he gives away more free printers than he sells, he certainly qualifies to be the "World's Worst Printer Salesman"!
At Cartridge World in Cherry Hill, our Free Printer Program is an investment we make in our customers. It is our hope, and belief, that they will continue to purchase our consumables for many years to come. The program may not be suited for every small business. The business would need to print at least 1,000 pages a month in order for us to make this investment.
We opened our store in Cherry Hill in August of 2006 and have never looked back.
Marty's business philosophy is: Always offer the best value for the customers' money, and continue to exceed their expectations. We treat our customers' money as we would treat ours. We work to earn our customers' trust, loyalty and friendship with each sale.
In their free time, Marty loves riding his motorcycle and Thea enjoys Broadway shows. The two also enjoy visiting friends, especially the wild ones in Dallas!